Portfolio Prioritisation
Ensuring true strategy value from your project portfolio
Portfolio prioritisation model
To ensure the highest return from your change portfolio and budget, we will prioritise the portfolio in line with your strategic goals to realise the greatest value:
A framework for applying strategic criteria to the portfolio
Stakeholder agreement and collaboration throughout the process

Enables demand management, capacity planning and reliable delivery
Embedding this approach into formal processes for evaluating the value of future initiatives
Our Portfolio prioritisation approach
When consolidating and aligning a portfolio, it's important to have an objective approach that will cut through subjective measures of value, minimising conflict and disruption, and enable true strategic alignment.
Our approach is designed by TechWomen100 award-winning transformation specialist, Mandie Beitner.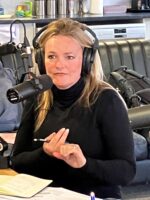 Mandie is a Chief Transformation Officer who has prioritised portfolios for value in companies like HSBC, LSEG, WPP, Thomson Reuters and Dentons.
What's important about her experience and expertise is not only the number of times she has done this but the fact that she has done it at scale internationally and always with managing value at its core.
An excellent example is her work for WPP, the world's largest communications services group: 370 companies, 179k people, 3k offices, 111 countries. There she established the global portfolio investment management and delivery framework across all operating groups. She then simplified and prioritised this hugely complex global consolidated portfolio for committed investment, value realisation and delivery. This included over 2,000 programmes/projects across all 8 Operating Groups.
Managing value objectively
At the heart of our approach is managing value objectively – aligning your budget to your strategic goals to understand which initiatives deliver the biggest bang for your buck
Projects in portfolio aligned to budget and impact on the market
Our approach is designed to ensure you get the greatest bang for you buck from your portfolio, and ensure everyone is aligned and wastage eliminated. 
Strategic alignment of portfolio
Focus on the projects that return the most
A "North Star" that everyone agrees to follow
Future projects also become appraisable for value and strategic alignment
Greater reliability around delivery
Eliminate unnecessary meetings and reporting
Reduction of waste and removal of duplication
Lower contention when resourcing projects 
Portfolio Prioritisation methodolgy
The methodology is collaborative, engaging with stakeholders to define, agree, socialise and score the criteria for the new framework before embedding it in your organisation
Engage stakeholders to explain the framework, how it will work and how it will benefit everyone
Agree the criteria with all of the right parties who own the initiatives
Take the collectively agreed criteria and applying it to the portfolio
We embed the framework into formal processes so the existing portfolio is prioritised and any new initiative is scored and treated accordingly
Find out how your PMO is performing. Understand how well aligned it is to your business strategy for 2021. Ensure transparency and ease of reporting for the Board and Sponsors.