ROI IN DIGITAL TRANSFORMATION
How interim management helped a healthcare provider overcome their fear of technology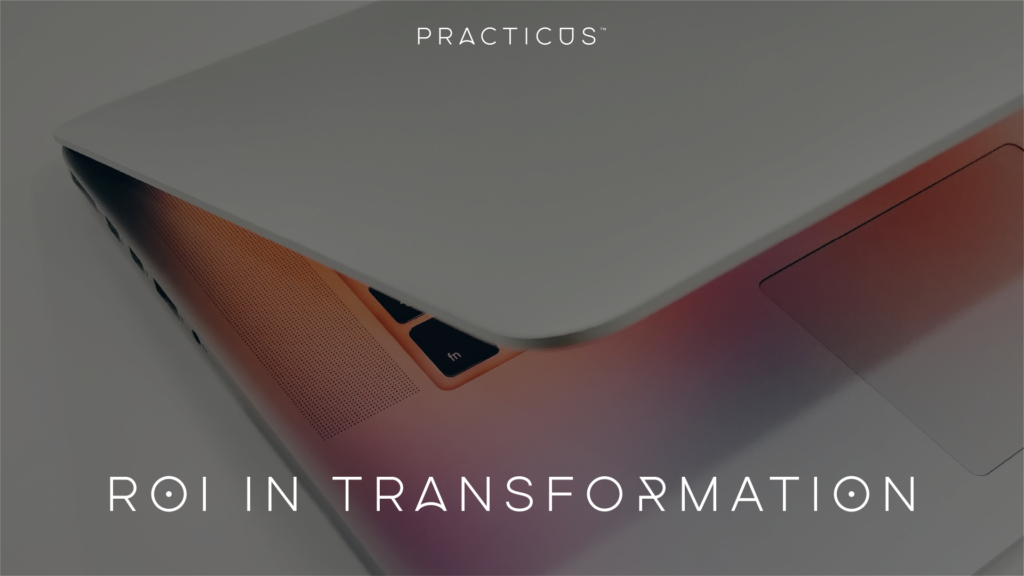 Digital transformation has crept up the agenda and is now a point of focal concern for independent health and social care leaders. When Tom joined this provider nearly 6 years ago, he faced some challenges that many are familiar with – a lack of money and a digital capability at least 10 years behind the curve. They realised their fear of embracing technology was holding them back.
Tom set himself the challenge to
Identify where the company was lacking in digital capability
What today's tech offerings and opportunities are that would benefit them
How to bridge the gap between where the organisation is and where it needs to be.
Armed with this knowledge, he was able to set to work on devising a digital transformation strategy. This involved helping the organisation's leadership understand the full potential of technology and demonstrate how this would benefit the organisation and the people they serve. The 10-year programme of work that Tom developed changed the organisation for the better and took them into a new world.
How did Tom get things done? Well, he took a number of incremental but fundamental steps to gain the confidence and trust of the leadership team. He ensured that the decision makers:
Discussed the next 20 years and where they need to be year on year to be successful
Planned a roadmap for the near future to ensure continuity
Clearly understood why a long-term vision and roadmap was necessary
Created a clear strategy and investment plan in their workforce, technology and new ways of working.
The new technology investments that were considered important for the future development of the organisation and underpin its growth were identified as:
Mobile – mobile devices to move people out of the office and into services
Cloud computing such as SaaS to reduce cost and increase agility
Interoperability – API driven systems and system wide integration
Automation – to improve productivity
Information and Cyber Security – a critical consideration for all operations and compliance
This journey towards transformation was of course not without some considerable challenges along the way. Funding certainly was a significant issue, especially when almost always competing with very real frontline spending demands.
Tom wanted to ensure that work towards their goals were managed in a logical way, recorgnising that they could not do everything at once. Although there have been many financial and productivity 'wins' throughout the transformation programme, there are two good and quantifiable examples of benefits gained that stand out:
Employee rostering – The new system that was introduced saved 1% a year in payroll which equated to roughly £1m. They were able to use fewer agency workers, reducing spend from £7m to £3.5m.

Estates Management System – This system was able to be removed from the overhead, with savings of around £40K a year. Functionality was not lost as other systems were able to be used for similar tasks. So, by looking at the wider picture of system capability, and streamlining processes, significant savings were made.
Although these and other cost benefits achieved by the transformation programme are enviable, Tom is very aware that digital transformation is not about new technology or IT systems. Technology is only an enabler. Real transformation success lies in people looking at processes and finding ways to do the things that need to be done, differently and smarter and using digital tools to help them.
This is an example where an Interim Manager can be hired on a project defined basis to deliver clear results. They bring the breadth of knowledge and the right skills to deliver a specific initiative, like the adoption of new digital technologies to improve the productivity of the workforce or help to digitise the services offered.
At Practicus, we have worked with some of the world's leading organisations to provide them with interim management and interim digital managers with a wealth of experience and corss-functional expertise. Contact Andrew Vaux to find out more about Tom, and our services.
---
Commercial Sectors
Interim Management
PMO as a Service
About Practicus
Our purpose is to help people and their organisations navigate change. We take an integrated approach to change, combining robust change management and project management with subject matter expertise in strategy, technology, behaviour, data and operational efficiency.
Our services include Consulting, Recruiting and Advising, and we are known as one of the leading interim management agencies.
Share this:
---