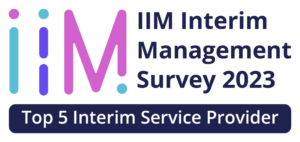 If you are looking for an interim resources, you have come to the right place. Practicus has consistently been voted a Top 10 provider in the rankings of the IIM for over a decade and has placed in the five top positions for the last six surveys running. 
Interim resourcing
Practicus has been providing interim resourcing solutions for close to 20 years. We have become a recognised leader in the field, particularly in change. transformation and executive services, across both the private and public sectors.
We have perhaps the strongest network of active talent to be found and a track record of delivering C-Suite placements, leaders and specialists across a variety of industry verticals and disciplines.
We connect companies and government organisations with the best talent available. Our network of thoroughly vetted professionals is ready to to meet your goals.
If you would like us to help you, contact us on the form below or visit our page on interim management – we can provide you with a shortlist in as little as 72 hours.
interim resource meaning
If you want to find out interim resources meaning, it is simply refers to temporary management and related expertise during times of change and transition. Companies will appoint this resource at short notice because they have a pressing need and the particular expertise and experience does not exist internally.
The term can seem confusing because of the large number of situations in which it is used. And of, course, the many other synonyms such as interim staffing. 
Despite the ambiguity, this has been a growing area of the workplace since the 1970s. There are now tens of thousands of people providing this flexible workforce solution in the UK alone. And they are supported by interim management agencies like Practicus.
You can find out more about it on our webpage: interim manager meaning
Interim resourcing jobs
We provide interim resourcing jobs but more than this, we aim to create career-long relationships with leading talent. As a change and transformation specialist, we do not cover every kind of role but for those that we do, you can expect first-class representation by people who understand you, your career and the assignments we put you forward for.
Find out about our interim jobs