Practicus 57th – Best Workplaces Awards 2022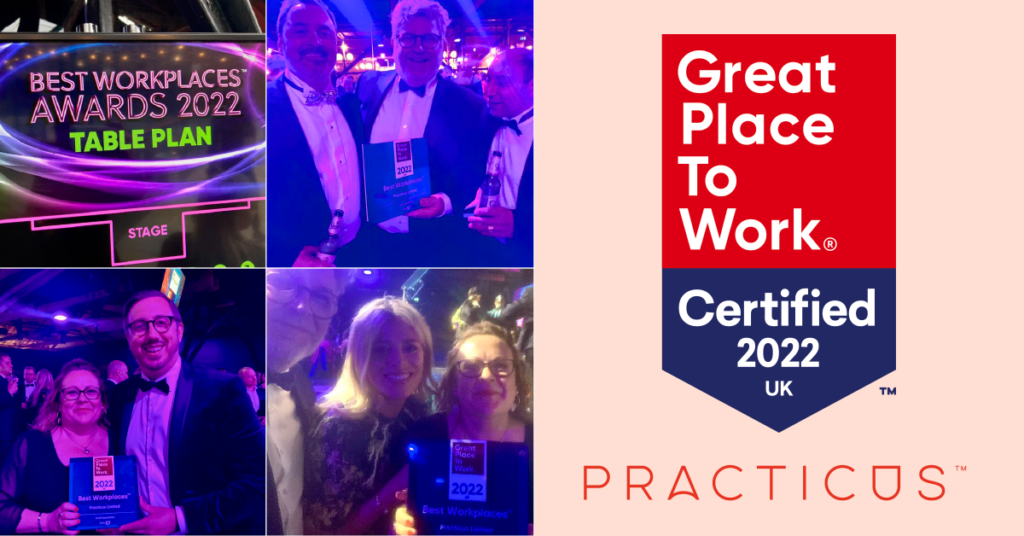 Practicus is pleased to announce that we have been recognised at the Best Workplaces Awards 2022. Officially Practicus is now the 57th best small workplace in the UK.1
This follows us making the inaugural best workplaces for wellbeing list a little earlier this year.
Both awards reflect the tremendous amount of work over the last four years into the way we support, empower, encourage and reward our staff – including through the challenging pandemic period.
Of course, there is no such thing as a perfect score and there are definite areas we are currently working on. What has made this such a rewarding process though is our people themselves and a strong purposeful culture that has grown organically around our brand.
What qualities make Practicus a great place to work?
Autonomy with accountability – One of the things that employees (and candidates at interview) tell us they find most attractive at Practicus is the culture of autonomy with accountability. It provides flexibility around when you work and how you prioritise but within a framework of support and accountability. This places the emphasis firmly on supporting, coaching and nurturing – focusing on the outputs rather than the inputs.
Non-hierarchical – while there is of course a leadership structure to the business, we treat everyone the same. This is part of one of our core values: empathy. We have open-plan offices and everyone works in the same space when not working from home. Everyone is issued the same equipment and is provided with the same benefits package.
Transparency and communication – This is something we have worked hard to optimise over 17 years. At times, we have been guilty of sharing too little or too much – and of course that has varied by 'what' is being communicated.
Values-based business – we have worked tirelessly to ensure upholding our values is more important in our culture than profit. You know you are succeeding when the success stories that staff tell each other about the business have the values at their core rather than sales.
One Team – we win together, we lose together. Staff are motivated to help each other and to celebrate each success as a joint effort.
Empathetic and inclusive culture – with empathy a core value in our business, we strive to make our culture as inclusive as possible. One of the many ways we do this is to invite speakers on different topics to provide 'lunch and learn' presentations. Recent speakers have included David Beeney, from Breaking the Silence, a champion of mental health inclusivity in the workplace, and Yvonne Howard, a leading practitioner around diversity, equality and inclusion in the workplace.
How did we create this unique environment?
Positive Mindset programme – the positive mindset programme is an entirely voluntary programme that enables staff to work on how they confront their challenges, both inside and outside work. While this was created to enhance wellbeing, the by-product has also been to create happier and higher performing employees.
Resilience programme – in the wake of the pandemic, with so many staff now working from home and physically separated from the support of their colleagues, we created the Resilience programme. The programme focuses on mental resilience and was again a voluntary programme but also anonymous, i.e. we would not know which members of staff participated to remove any potential stigma attaching to them. This was commissioned with a company called the Resilience Factor and reduced our average sickness levels by 39% during the pandemic year of 2020.
Flexible and hybrid working – we actually introduced both flexible working and hybrid working four years ago as a staff benefit as part of our autonomy with accountability philosophy. Staff can flex their hours and choose whether they are better placed in the office on a given day or at home. In the annual survey (2018), staff reported an increase in job satisfaction by 54%, to work-life balance by 78% and reduced stress levels by 68% and improved time with family and relationships by 67%.
Values behaviours programme – since our inception we have nurtured a core business programme linking behaviour to recognition in our values framework. This includes monthly nominations for colleagues who standout for their achievements against the value framework. Weekly company-wide comms highlighting values-based stories from around the business. And most recently, the Practicus #Legends Team's groups where staff publicly thank someone who has gone out of their way to support them by living our values – whether that is empathy, passion for what they do, integrity or going the extra mile to help. All employee interviews and promotions have a values-framework assessment alongside the competency and skill criteria – and staff are fully able to explore the values and the overall framework on our intranet
Volunteering and charity – We want our culture to be proactive – for people to spot opportunities and seize them. Rather than choose a charity aligned to our brand and contributing, we let our employees nominate and vote on the charities we support each year, come up with the ideas that we then support – both in terms of time and money – as well donating too ourselves. Examples, walking the river Thames, sleeping rough for the homeless, working at food banks and donating money and food – helping them stock shelves and make up food parcels. To really enable people to get involved, we also give everyone two volunteering days each year to spend on a cause personal to them
Benefits directly linked to culture – we ensure every benefit is strongly linked to the kind of culture we want to nurture:

Going the extra mile to help others – paid volunteering days to help the local community, annual company donations for employee charitable work
Empathy (Family-orientated) – birthdays off to celebrate with family, turkeys at Christmas, easter eggs for employee children, reduced hours leading up to maternity leave for the same pay (alongside enhanced maternity pay), Friday 4pm finish on the company for all (but paid like a full day)
Integrity (Healthy living) – free fruit in all our offices, health cash plan that covers family members, flu vaccination clinic, cycle scheme
Passion for what we do (Personalised) – Personalised birthday video call message from the CEO, personalised birthday cards, personalised gifts for 3, 5 and 10 years' service
ABOUT PRACTICUS
You can find out more about us on the about us page
REFERENCES
UK's Best Workplaces 2022, Great Place to Work, May 17, 2022, greatplacetowork.co.uk
Share this:
---