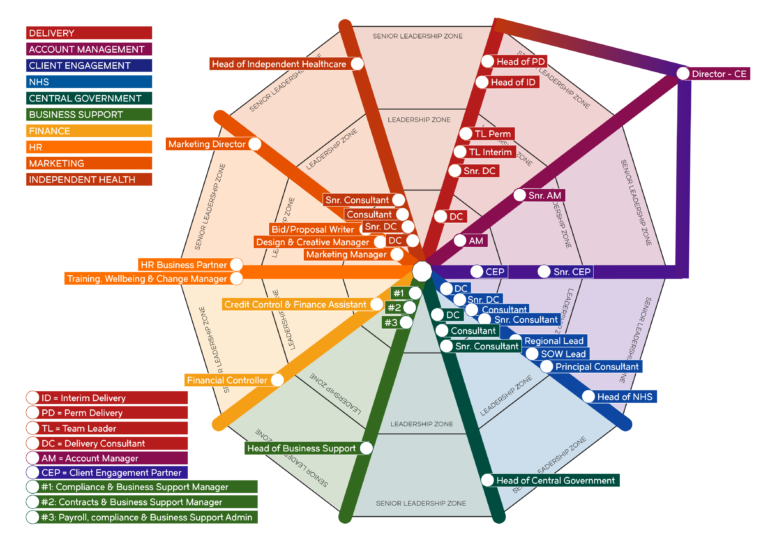 MaPPinG YOUR DEVELoPMENT PLaN
As a small business, we're passionate about developing you as a leader… sooner rather than later. In fact, we'll invest time in developing you throughout your career at Practicus.
As well as giving you access to our own development programmes and leading external training, we will support you with on the job coaching. Everyone, no matter how junior or senior has a personal development plan that is reviewed every six months. 
We believe in life-long learning to keep us all at the top of our game and ensure you stay relevant and ahead of the pack in a rapidly changing talent market.
How do Practicus Career pathways work?
Our career pathways have been extensively mapped, with clear milestones for progression. Each role has a criteria, which covers everything from suitability for the role to under what circumstances the role becomes available. 
To begin the journey to that role it is as straight forward as organising a conversation with your line manager. This doesn't have to take place within the six month review meeting – though it is a natural opportunity – it can take place at any time once you've completed your probation. 
Your line manager will be able to discuss the opportunities available and coming available in current plans and will guide you through a gap-analysis to go through everything that will be needed to build a personal development plan towards that role. 
The plan itself will be created in collaboration between yourself, line manager and HR and will include things like: training, skills development, milestones, behavioural adjustments and measurement. The plan will be fully tailored to you as an individual and the needs of the role. 
Progression isn't just about promotion
We believe that everyone has the right to progress in their career, and we understand that not everyone wants to be the CEO. Consequently, we take a wider view of career progression than simply promotions up a hierarchy. Perhaps you have a specialist discipline and want to advance within it, or perhaps you want to develop new capabilities relevant to the company's business goals? In all these cases, we have built our progression strategy with this in mind.
We take a collaborative approach to individual progression and ensure personal progression plans are just that: tailored to the individual.