The elephant in the room isn't Brexit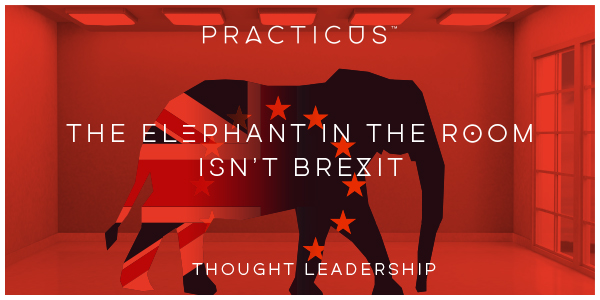 There may be six months to go before the UK leaves the European Union but the EU worker tap has already begun to run dry. From doctors and nurses to care workers and managers, EU nationals are thinking twice before taking up opportunities in the UK's independent health sector. Yet is Brexit the problem that many in the sector believe it is? Certainly it comes with challenges. Around 8% of the current workforce is from the EU. I recently convened a round-table of CEOs from across the sector to discuss the issue. Their take? Brexit by itself is not the real problem and it may well be the wake-up call that the industry needs.
It seems we can't speak about the UK's relationship with the EU these days without being dismissed as either a remainer or brexiteer. Do you remember the days when you could have thoughts on something that differed from someone else's and you could still get on? I liked those days. I like those kind of people. I am one them and I'm hoping you are too, because love Brexit or loathe it, together we all have to live in it.
There are, of course, immediate implications for the independent health sector. This is my attempt to discuss those issues pragmatically.
Actually, surprisingly, when I invited 12 Independent Health CEOs to join me for a round table on workforce planning and Brexit, few felt that current EU workers would leave in any large numbers. Several had conducted internal engagement around this. One described the feedback from the Portuguese nursing community within his organisation, "They aren't looking to return home but before Brexit they were recommending friends and family to come over and work in the industry, which was helping to overcome recruitment challenges. Now, they're no longer doing that. They don't see the culture as being welcoming anymore."
This is the big takeaway. While no-one expects a mass exodus, it is increasingly difficult to obtain staff at the rate independent health organisations need them and Brexit has made the UK a less attractive destination for the overseas workers who would alleviate the situation. Most of those attending described a historical 80:10:10 split in their workforce across UK, EU and Non-EU nationals. A more accurate average for workers across the industry who have come from the EU today is about 8%. That may be a single digit figure but it's still a significant section of the workforce that will decrease and need sourcing from somewhere else in the future.
Maybe that could be within the UK or from non-EU countries but there are issues there too. One CEO revealed that, "Specialists for cardio and intensive care are already thin on the ground in the UK and so even a small decrease in the talent pool due to Brexit will have a disproportionate impact." Another commented that being able to source talent from countries with similar approaches to healthcare is important, it aids integration into the workforce. But many of those are EU countries. "GPs from countries like Holland," he said, "fit in very naturally to the UK system compared to ones from say South Africa. I'm not saying South African talent should be overlooked, but there is a higher likelihood of the job not working out because our system is very different and that obviously pushes attrition rates even higher."
And that's the elephant in the room: attrition. While demand for resource within the sector is increasing, retention remains a long-standing problem that easy access to EU talent has allowed to go unstaunched. "The 'We'll sort that later' mentality no longer cuts it," it was said to many nods. "Brexit could be the event to make us focus properly on these long-standing issues around recruitment and retention that are intensifying."
A CEO who had been quiet until that point spoke up, "I think we keep doing the same old, same old. We need to stop doing what we're doing to solve these problems because it isn't working – throw it out and start again with a blank sheet of paper. We must have realised by now that we're never going to have enough people using the current approaches."
And therein lies the opportunity. For the organisations prepared to take a fresh approach to recruitment and retention, it could well become a source of advantage just when competitors are being hit hardest. After all, as another CEO noted, "Other industries have solved these problems, why can't we?"
We went on to discuss a number potential solutions that I'll cover shortly in a second article. 
Share this:
---