Independent healthcare agency and temporary staff
Round-table Discussion:
Business Friends or Unaffordable Overhead?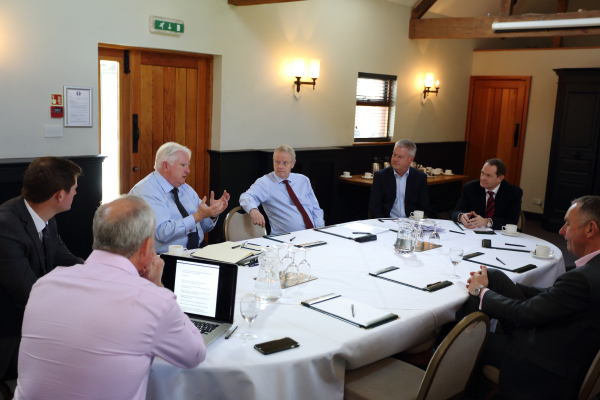 For the longest time, healthcare providers in both the public and independent sector have depended on agency staff, particularly around nursing, in order to meet their organisational objective.
For many, what was once seen as a short-term fix to a capacity challenge has turned into a dangerous over-reliance that threatens both the patient and the profitability of the entire enterprise. We brought together leaders from around the independent sector to look at creating sustainable workforce: what worked, what didn't and what can be done going forwards.
BETTER MEETING THE NEEDS OF YOUR WORKFORCE
Many attending were at pains to point out that people don't always turn to agency work out of choice:
"Have we asked ourselves, what is it that makes nurses want to be agency? 66% of staff in social care are women, similar in the NHS. T&Cs don't take their needs into account, particularly if they need part time due to dependents outside of work."
"I agree. We got rid of agency and brought in part time and small hours contracts. We said to these staff, if we don't give you 8 hours a week then that's our problem, not yours – you'll get paid."
"You have to think about remote locations too. If even your lowest paid worker needs a car to get there, ask yourself is it a viable site?"
REWARD
There was a lot of discussion of rising salary costs, competition with NHS pension increases and the race to the bottom of profitability. One of those attending however, had a different way of looking at it:
"We need to move to Total Cost Remuneration thinking. If there is an envelope of cash associated with a role, ask the person how they want to spend it. Some will be all cash. Some salary sacrifice into schemes. Other will be this % for my pension. Others will be extra leave. And there has to be quid pro quo – no triple time on Xmas day and so on. Approaching it this way works well because it means a higher base salary for staff so it's easier for them with mortgage applications".
"I'll give another example. Phlebotomists are band 2 and obviously have to travel around a lot. You'll find that they drive old bangers. Cheapest car they can buy. If you allow people to drive their own cars for work purposes (Grey Fleet) you have a responsibility under your duty of care to ensure that the cars are insured correctly, maintained correctly and suitable to carry out their expected duties. Failure to ensure this could lead to a charge of corporate manslaughter if anyone is killed or seriously injured as a result. We used the a salary sacrifice scheme to offer them new Hyundais on lease, got them a great deal and told them that we'll pay 14p per mile rather than 45p. They loved the new cars, it's better for them and it's better for the organisation".
TRAINING & PROGRESSION
Others were keen to add, it's not just about financial and material reward
"To stay, staff need to feel valued and over time, trained, developed and rewarded. If you're on minimum wage and, three years later, there is no reward for that loyalty, well what are you going to do? High agency use is a symptom of bigger issues in the organisation."
"I work a lot with PE firms and I've never come across a PE firm yet that looks at the books and says, 'you're spending too much on training.' Link the training to the workforce issues – so tell someone, 'when you're done with that module, come back to me and tell me about it because we've got this problem over here that you can help with'."
PERSONAL RECOGNITION
Other forms of reward are important too and none more so than personal recognition:
"If you pay them the same, you've got to look at the opportunities you have – so social events and the feel good factor of going to work."
"The only way to do that is to be on the floor. It's about making people feel valued. They want someone to say 'thank you' and 'well done' and mean it. At Christmas we send a hamper and you have to be very careful. You must get the name right, you have to know that someone is diabetic, so don't put chocolates in for them. Knowing when alcohol wouldn't be appropriate for a person. It's that personalisation is the bit they care about, more than the hamper itself, I suspect. It's personal recognition."
"It's passion and being authentic too. It's not just, oh we're going to do an Easter egg hunt for the children. You've got to mean it. The question is how you scale that. You get that level of engagement, you get better retention."
BUILDING A CULTURE
What was interesting on the day was to hear the stories of those who had successful transformed an organisation's workforce to be sustainable:
"I worked with a financially challenged Essex trust that had a 40% nursing vacancy. They say the issue is the proximity to London, which pulls away local talent. The answer was to spend a lot of time attracting quality: what do you want? What's your fit with our culture? The best talent came by recommendation from our own staff. They recommended quality. And we then rewarded those referrals socially as well as financially. We also set up open forums – not easy to run but we ended up implementing 90% of the recommendations that were made at them. Our refer-a-friend scheme was at £1k. We ended up taking people from the NHS rather than the other way round – people who hated the bullying there. We succeeded in creating a family culture. So often the answer to quantity is to focus on quality."
"I think you're right on quality, make this place 'the place to be'. I make a point of saying you won't start in the business until you've been through induction. Every promotion, everyone has to do an exam. If they fail, you have that conversation about whether they are right for this environment. What we end up doing is stepping away from increments for time served and focus on rewarding performance."
"I think culture is very important. Equally, you've got to lead from the top. If you don't set the culture, it will develop on its own and you may need to fight it ever after."
THE IMPACT OF MANAGEMENT AND LEADERSHIP
The event was also a moment for self-reflection on leadership's and management's own contribution to the agency problem:
Let's be honest, the need for agency is to do with problems we didn't solve long before. From the perspective of the home-care sector, if you're a poor manager, you're not going to keep your staff."
"I agree but you can't just blame the managers. Accountability for this problem at the organisational leadership level often doesn't exist. We push it down to the site and home management level and say, you've got to come up with X. They choose agency to meet that goal because it's easy."
"I think we have to bear in mind that they might be part of the problem but they're hard to replace so you have to make them part of the solution."
Visible leadership has definitely been important to creating a sustainable workforce for us. We have 90 staff. If it was 900 I think I'd have to split that into clear sections with a clear leader. If you're CEO of 900 people, it's difficult to be properly known to staff so you need visible leadership at a lower level."
"I think that floor walking aspect is important. The NHS staff survey has a 46% fill out rate. You can't get your information that way."
PROACTIVELY USING AGENCY
The question was raised, is agency really the enemy? Are there good times to use agency?
"I think on the health side, there will always be some gap between supply and demand. Without massive change, I'm not sure how that will be solved."
"There are areas. Not all agency is the enemy of a good healthcare business. I'll give you an example, HR. I've got a change agent working with me there. She's also mentoring my HR staff so that when she goes, there isn't a leadership vacuum."
"I've done that exact same thing with theatre utilisation."
"I'd put it differently. I'd say the answer is to use an agency pro-actively. Can you do that a lower level? Not sure. I agree with you at the higher level."
"There is a definite difference – temp as a necessary stopgap for staff shortage, interim for a skills gap."
About Practicus
Practicus provides problem solving and recruitment and is one of the leading interim management agencies. To find out more about the company, see here
Share this:
---